---
When Alex Megos clipped the chains of Bibliographie on August 5th, he finished an uncharacteristically-long journey, which he wasn't sure he'd ever complete. But it wasn't the end goal that truly mattered. Through the experience, he says, he learned to love the process instead of chasing the send like a carrot on a stick. The fact that he also made history by establishing the second 9c/5.15d in the world, after Silence, was only a bonus.
His longest project to date, the German climber dedicated approximately 60 days over the past three years to work the steep and sustained, 35-meter line next to the famous Biographie at Céüse, France. "Trying it over the past three years, I definitely did have some doubts whether I would be able to climb it or not," he says. The route stacks a 9a (5.14d) on top of a section of 8b+ (5.14a), with an 8A+ (V12) crux in the middle. Lacking good rests, it's a feat of endurance to link it all together from the ground. "It took me about three years to get past the boulder problem, with some beta adjustments and everything," he says. "And then I still fell seven times this past week in the upper part."
In the evening on the last day of his trip, he pitched off relatively low on the route compared to his previous high points. "It definitely wasn't looking good," he wrote on Instagram following his ascent, but still he decided to give it an infamous "one last go."
"I passed the crux in the middle of the route, and found myself on the poor rest before the final hard section," Megos wrote. "Twice prior to this burn I had fallen on the last hard move of the route, so I wasn't feeling super confident. Nonetheless I started off after the rest with full pace and only briefly slowed down to adjust one hold and to get it perfectly. I passed my 'trouble move' seemingly effortlessly and despite being completely pumped out of my mind, I was able to pull off the sequence of the last four moves."
Megos suggested a grade of 9c (5.15d) overall, given the difficulty and level of effort required compared to Perfecto Mundo (9b+/5.15c), which makes Bibliographie the world's second climb of the grade.

"Independently from the grade, this has been a very valuable experience for me. It marks a personal milestone in my climbing life, one I would have not been able to complete without the support and help of all of my friends and family," he wrote. "Deep gratitude and thanks goes to all of you!"
We spoke with Megos to learn the details about Bibliographie, how he stayed motivated for so long, and what he learned from the experience.
Q&A with Alex Megos
When did you first try the project, and what was your first impression?
I tried the project for the first time in June 2017 when I was there on a trip with Miguel Casar, a friend of mine from Mexico, and Liam Lonsdale, a friend of mine from the U.K. On that trip, we spent a week in Céüse and I tried the project for around six days.
When I went up it for the very first time, I realized that it was possible, but thought it would be super hard. I couldn't do all of the moves. There were a few crux moves in the middle of the route, which I couldn't do on the first two or three days.
Tell us more about the climb, the style, and the movements of the route.
The route is located in Biographie sector of Céüse, directly to the right of Biographie itself. It's around 35 meters long, and has about 28 meters of hard climbing, with 60 hard moves.
The first part of the route is relatively juggy, but with very big moves. I would say, up to the crux in the middle, the route is about 8b+ [5.14a]. There is one rest in the first part, but 10 moves before the crux. Then, about halfway up, there's the boulder problem in the middle, consisting of four moves. I would say the boulder problem itself is around 8A+ or V12, maybe, but it's always hard to say how hard boulder problems are on routes. After that, it felt to me that you still have to climb 9a [5.14d] to the top.
Overall, the route is very consistent—there are no real, good holds—and it takes a lot of endurance. There's one poor rest about 15 moves before the last hard move, but that's about it.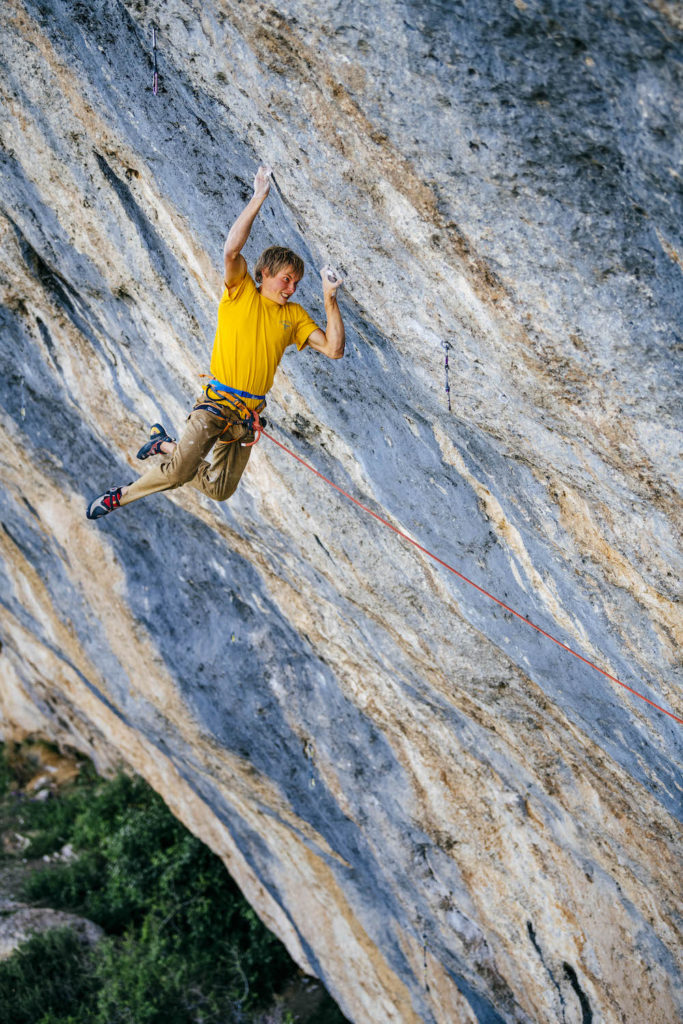 You're known to flash or send routes very quickly, and you spent far more time on this climb than any other previous project. Why did you dedicate so much time to this one? What kept you so motivated?
I usually don't project for that long, but this line, from the first day when I started trying it, was absolutely amazing. It's my style of climbing. I really enjoyed the moves, I really enjoyed working on it, and that's why I stuck with it.
In your Instagram post, you mentioned Bibliographie required more specific training than Perfecto Mundo. In what ways, and how did you train for it?
What I wanted to say in my post was that I actually specifically trained for Bibliographie whereas for Perfecto Mundo I pretty much didn't do specific training. Perfecto Mundo I did in 2018, and I drove from a bouldering world cup in Switzerland straight to Spain and then tried it. So, beforehand, there wasn't really any specific training going on. Whereas for Bibliographie I always dedicated some time before my trips to Céüse to train endurance. I didn't really train for the specific moves—I didn't build any replicas of any sections—but I focused more on endurance training.
You also wrote that this was a valuable experience for you, independently from the grade. How so? What did you gain or learn from the overall experience?
I think it was a very valuable experience for me because, like most climbers, I'm very goal oriented. I usually want to climb something, I put in the work, and I'm always focusing on the send. But with this project, I didn't necessarily believe all the time that I could actually climb it. I was much more focused on the process than the end goal—that's what I had to learn. With this project there were times where the goal seemed absolutely irrelevant and the process was all that mattered.
"With this project there were times where the goal seemed absolutely irrelevant and the process was all that mattered."

— Alex Megos
Do you think 9c+/5.16a is humanly possible, and if so, possibly within your reach?
Yes, of course 9c+ is humanly possible. It's only one grade harder than what people have climbed to date, so technically it should be possible. Whether it's possible for me or not, it's hard to say. I wish to believe that I could climb harder than Bibliographie, but who knows?
What's next for you?
At the moment there is no next. I think it all still depends on how the current situation is going to play out in the next few months and whether there will be further travel restrictions due to coronavirus. So, for the moment I am quite satisfied, and I'll just go and climb a little bit.
Lastly, the big question—Are there any other vegetables for power, or just carrots?
Of course, other vegetables give you power, too, but carrots are just the best. It's like with colors, you know? Other colors are beautiful, but yellow's just the best.