---
When climbers conjure up a dream climbing trip, few probably think of Lebanon, on the eastern side of the Mediterranean, as a top destination. Yet the country is home to vast potential, along with the first 9a route in the Middle East.
Avaatara (9a/5.14d), established by the late David Lama in 2015, is located in Lebanon's Baatara Gorge, where a waterfall has carved through layers of Jurassic limestone to form a 255-meter deep sinkhole. Three natural stone bridges span the moss-shrouded gorge, giving the area an otherworldly appearance.
Inspired by the film of Lama's ascent, the 17-year-old French climber Victor Guillermin traveled to Lebanon this spring to try the unrepeated king line. "The beauty of the climb, its difficulty, and its history created a dream line for me," he says.
The steep, 35-meter route sits within the gorge, next to a roaring waterfall and above the intimidating sinkhole. When the wind blows in the wrong direction, the climb gets doused. Just accessing it can be a challenge. Fortunately, Jad El Khoury—a local climber and route developer, who belay David Lama during his first ascent—took Victor under his wing to help.
Victor quickly unlocked the moves. And yet, the main crux continued to shut him down, day after day, until little time remained. On 28 April 2023, during his last day, last go, Victor managed the second ascent of Avaatara.
Here, Victor reflects on his ascent and experience of climbing in Lebanon.
Q&A with Victor Guillermin
What inspired you to try Avaatara in Lebanon?
This year, I wanted to focus on projecting hard routes outside, but I also wanted so much to visit a new place. A few years ago, I watched David Lama's film about Avaatara, and I thought about visiting the country. I talked about the route with my father and we decided to plan a trip to Lebanon. The beauty of the climb, its difficulty, and its history created a dream line for me.
Tell us a little more about climbing in Lebanon.
Lebanon is a very special place to go climbing because it has had little international development. It's not (yet) a destination in the climbing world. So it was a really cool opportunity to be among the first to discover this place and meet the local community.
And also, the climb is such high-quality, the Lebanese are so kind, and Lebanon is such a beautiful country that this place is a must-go for all climbing lovers around the world.
How did you prepare for the trip?
Before I left, I managed to contact Jad El Khoury, a local climber, route developer, and guidebook author, via Instagram. I asked him if the Avaatara was still climbable and if we needed anything special to climb in the Baatara Gorge (where the route is located).
Thanks to him, we discovered that a permit was necessary to climb there and to take drone pictures. He also hosted us, secured the approach, and let us climb on his incredible routes in Lebanon. Without him, nothing would have been possible!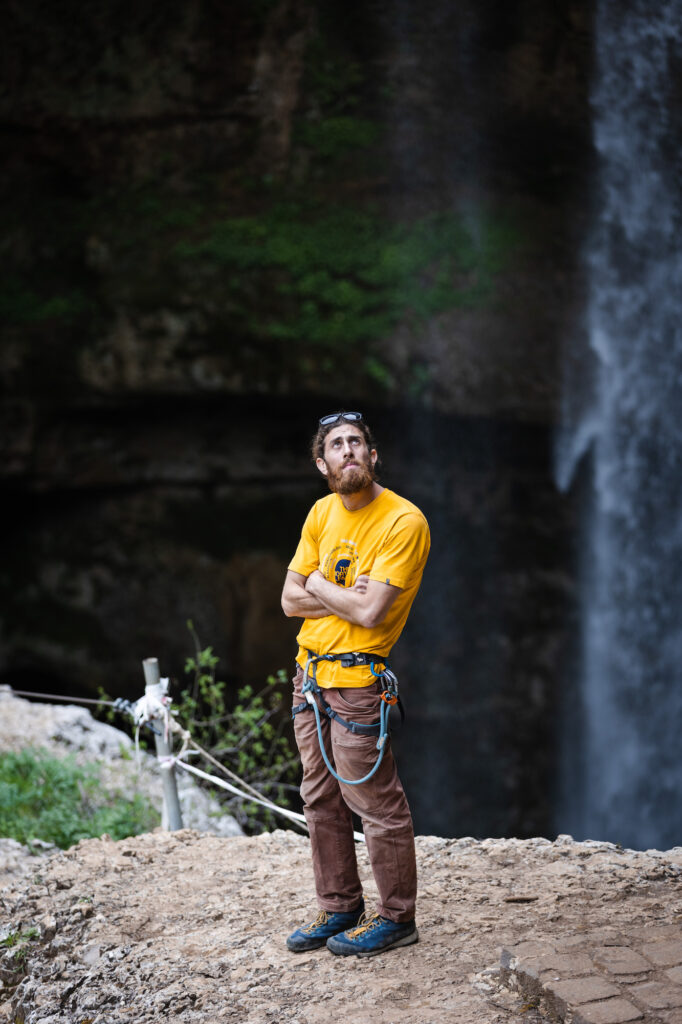 How else did you prepare for this project? Did you do any specific training?
To climb this route, I didn't do any specific training; I just did a lot of endurance climbing because I thought the route would be very pumpy. I didn't have a lot of info about the route so I wasn't able to replicate the crux or sections.
In the end, the route was not that pumpy. It mainly required strength endurance, and luckily, I had enough of that.
What was your first impression when you arrived at the Bataara Gorge and started trying the route?
Honestly, the first time I saw the huge sinkhole I was scared—imagine climbing above a 100-meter hole, next to a waterfall, with a hazardous approach. Luckily, Jad secured the approach and I could try the route.
On my first attempt, I had a lot of work to do: I needed to replace the old quickdraws, and rediscover and clean every hold. Finally, on my first day of trying the moves, I was confident about my capacity to send.
If you were confident about your capacity to send so quickly, what was the rest of the process like?
My progress on the route was quite unusual. It first took me three days to unlock all the moves and figure out the best beta. At the end of the third day, I fell in the main crux, a hard dynamic move with a dropknee. And for the next 20 tries, over six days, I fell on the exact same move.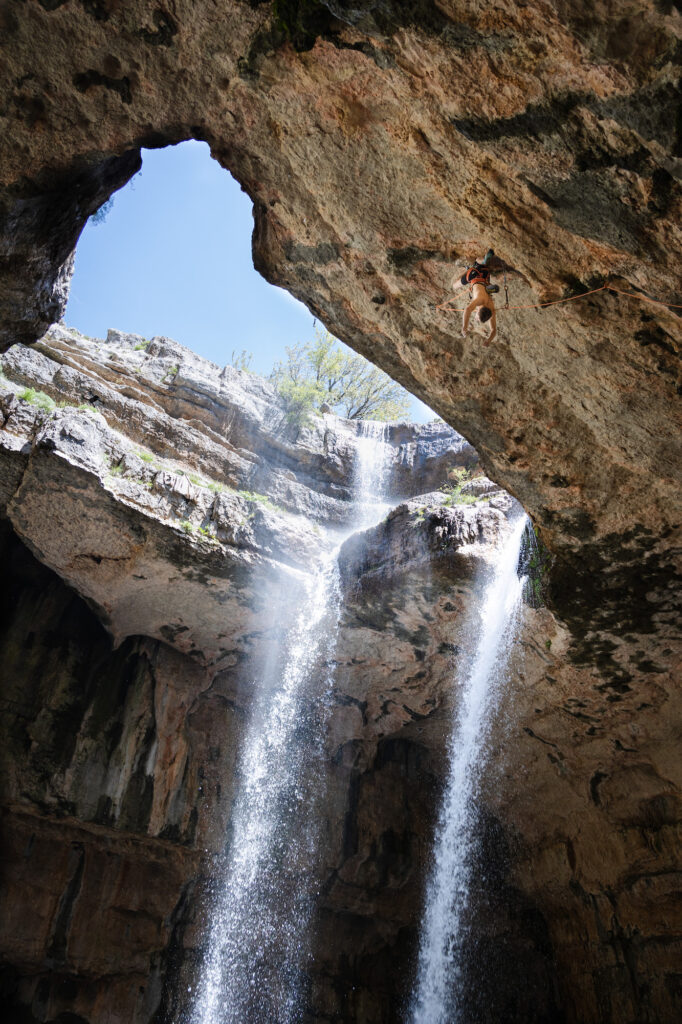 Describe the crux for us.
The crux was way more mentally demanding for me than just physical. It's hard to keep faith when you know that your previous 19 tries were all the same. These attempts also made me physically weaker, because the move was low percentage, and I didn't keep training between the redpoint days. I never really thought about giving up, but sometimes I just wanted to go out of this place and try other routes, discover new crags, but I kept trying, because it was the only solution to send Avaatara.
What made the difference?
On the penultimate day of climbing, after the 25th time in a row falling at the same move, I got angry because what I was doing was useless. Then my father took me aside and told me that I needed to find another beta, because what I was doing wasn't working. So I went up to find another beta, without success, but just before going down, my father suggested I try heel hooks, which I'm pretty good at.
I imagined some new beta, and 10 minutes after, I found a more physical, but less aleatory sequence. Directly, I became confident about my ability to send, but I just had one and half days remaining in the country. At the end of the day, I made a new try and passed the crux for the first time before falling in the second one. I understood then that after the first crux the route wasn't over.
What was it like to finally send the route?
The last day, I had a lot of pressure, because a failure would have meant coming back to Lebanon months later just to retry this one route. Unluckily, the weather was also very bad, and during my first two tries of the day, it was raining.
I was always slipping in the second crux, a hard cross with a toe-hook. On my third try, the pressure was high, because I was starting to feel tired, but I fell again.
For my fourth and final attempt, during a thinning of the rain, I managed to pass the second crux and send Avaatara, after a long fight against wet topholds, frozen fingers, and pump in my forearm.
It was probably the biggest fight I've ever had!
Beyond climbing, you also brought 20 pairs of Tenaya shoes to donate to the local community. How did that idea come about?
Usually when we go climbing at new crags, we only do consumption, we don't help to develop anything. During this trip to Lebanon, especially during this economic crisis, my father and I wanted to help, at least a little bit. Very kindly, Tenaya supported this idea and offered 20 pairs of new climbing shoes to the municipality of Tannourine (where the route is located), to help people discover climbing in their beautiful country!
To conclude, is there anything else you'd like to add?
I just want to say that the climbing potential in Lebanon is incredible! We saw dozens of huge caves and crags only asking to be bolted and climb on! Luckily, Jad and Rock Climbing Lebanon are bolting as much as possible. If you have one day the opportunity to go climbing in Lebanon, don't hesitate!
And thanks to everyone in Lebanon, especially Jad El Khoury and Lea El Medawar, and David Lama, my parents, and of course Tenaya!!!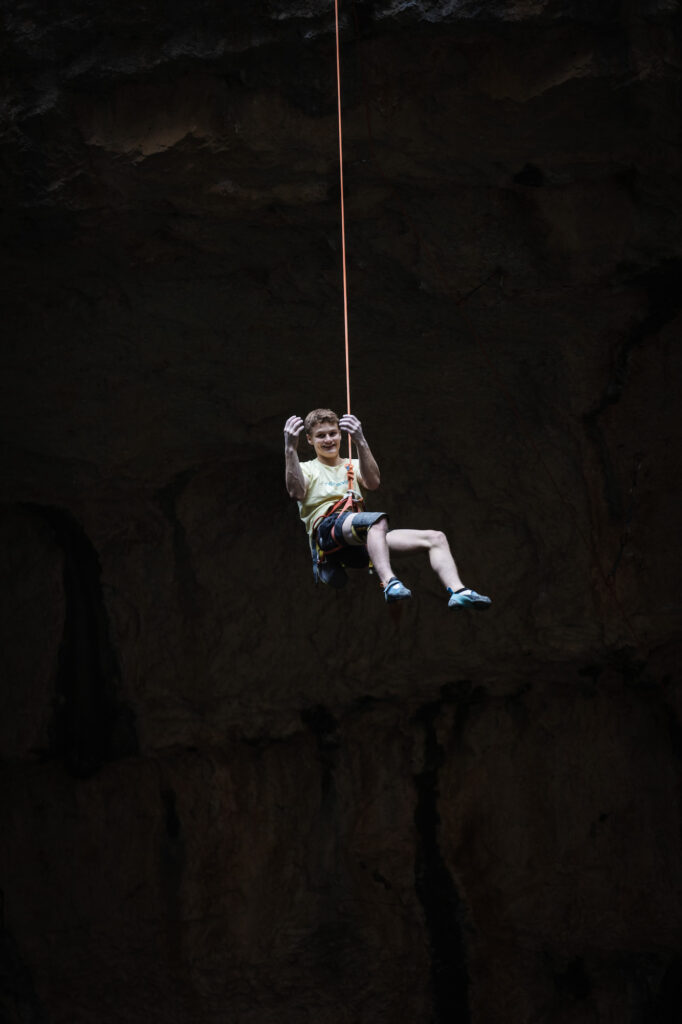 Jad El Khoury and George Emil co-founded Rock Climbing Lebanon, an organization for the development of sustainable rock climbing in the country, aiming to put Lebanon on the world climbing map. They also published the first climbing guidebook for Lebanon, which provides great insights to the country's climbing potential.
Jad also played a role in Sit Start, an initiative that kicked off in August 2022 and aims to popularize bouldering in Lebanon, by developing bouldering fields. At the same time they produce high-quality crash pads and other products to help raise funds to further push the bouldering development in the country.
---